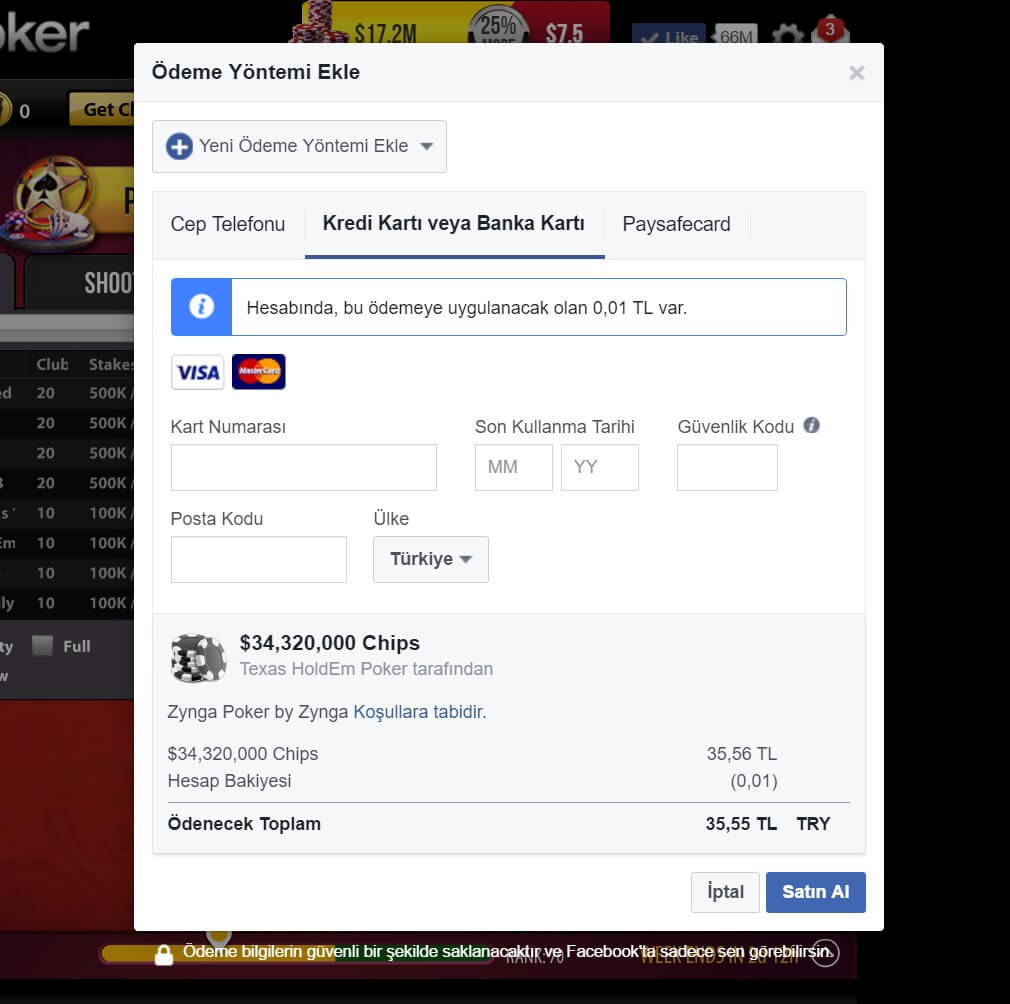 Facebook Zynga does not accept my credit card or my account is closed.
Although Zynga Texas Holdem Poker is the world's most popular online poker platform, it has many problems within. When users want to buy Chip from Zynga Poker with their Facebook accounts, they face errors hard to understand such as fraud warnings and invalid card. To buy chips from Zynga, it will make it easier if your Facebook account is old and approved and if your credit card information has been used before for online shopping by Facebook. Otherwise, you can be very frustrated when trying to buy a chip.
For these reasons, Poker Kedi offers you the opportunity to buy chips quickly and easily. You can specify the chip amount you want to purchase and make payment as you wish. Zynga Chips can be transferred to any Facebook account you want, or you can even purchase an empty Facebook account with all the chips ready in it.
At Zynga Poker, you have to buy chips to start big games. The games you play in low tables will not give you enough excitement. Because, players in small tables can always go all-in. In big games, chips of users are high and valuable. The pots are high and users play more carefully.
Many users who are annoyed by chip buying problems on Facebook find the solution to buy chips with iPhone-android-windows mobile devices, but chip prices on these shoppings are at least 3 times higher than Facebook web prices. If you think of all these alternatives, buying chips from Poker Kedi will be both very affordable and very easy.
If you insistently want to choose Zynga to buy Zynga Poker Chips, we suggest you to define a credit card on Facebook and buy Facebook credits and then buy Chips from Zynga with these credits. If Facebook does not accept your credit card and blocks your account, you can upload your identity card to make your account active again. After re-activating your account, you can use this card while you shop, adding your credit card from the Facebook payment method menu. Facebook is a little slow to reactivate accounts that are blocked. You may need to wait up to 1 week after sending your credentials.
Rather than dealing with all these difficulties, you can place an order by choosing the chip package you want to buy from the Poker Kedi Chip Sales page.