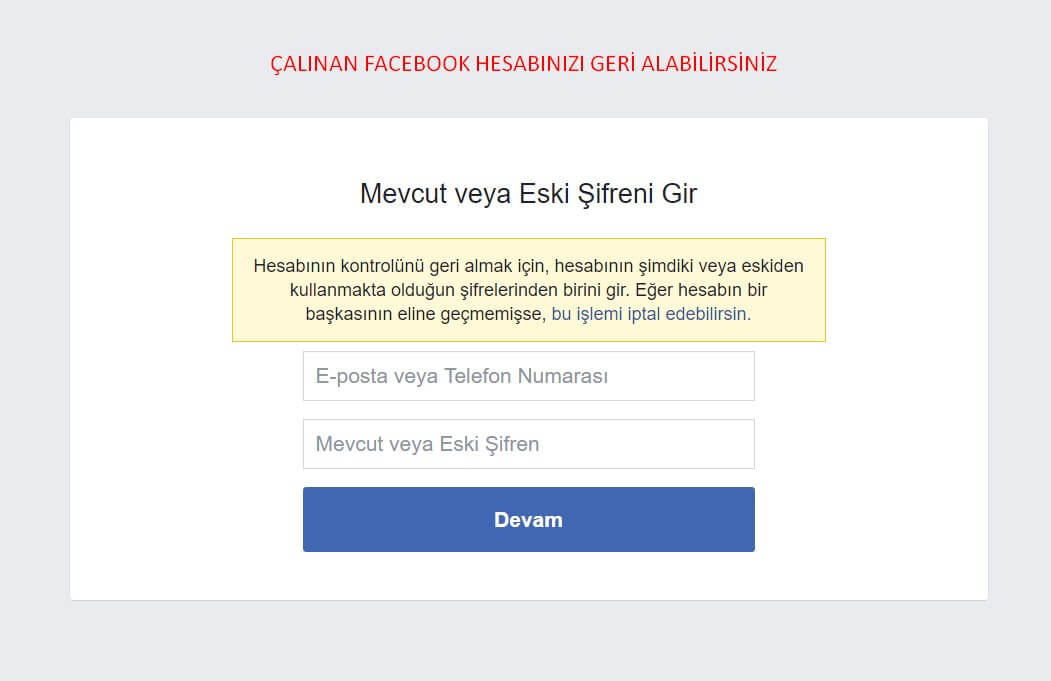 My Facebook account and chips were stolen!
The biggest problem of the ones who do not purchase Zynga Poker Chips on reliable web sites is their accounts being stolen. With more than 350 million users, Zynga Poker is one of the most played social games in the world. The fact that a platform with so many gamers has its own great economy, has managed to attract the attention of malicious people and fraudsters. The fact that chip prices are too high in Zynga's own store also serves fraudsters. Fraudsters who act as selling chips with fake names and sites constantly hurt players by stealing accounts and chips at the end of the day. Those people who seize Facebook accounts and prevent access to those accounts by changing the email addresses are stealing other's efforts.
There are things that can be done by those who are suffering from account theft. Instead of letting these people capture and use your Facebook accounts, when something happens to your account, you should visit the Facebook Hacked page without losing time. By filling out the form on this page, you can retrieve your stolen Facebook account and your Zynga Poker account linked to this account. When you go to the Facebook Hacked page, you have to answer some questions on the screen. The first question you will be asked on the screen will be the e-mail address of the stolen account. You need to write the e-mail address correctly, which you have used while signing up. After you write your email address, Facebook asks you the password that you remember or used last time. After you have given this information correctly, you will be asked a few questions that Facebook is trying to prove to you that the account belongs to you. If you also respond to questions generated from your friends' names, your account will be returned to you on average within one week. You can retrieve a stolen Facebook account. If you remember the information, you will get 100% chance that you can continue playing the game with your account. However, you cannot know what happened to your Zynga Poker account when you are not in your account, and what kind of rule violations you have. At this point you can send an email to Zynga describing the situation and showing the evidence transmitted by Facebook, and you can indicate that you are not familiar with what was done when the account was not in your possession. This informational mail may be of evidence when Zynga imposes a penalty on your account at long term. However, as many players know, it is difficult to receive an answer from Zynga's customer service.
If you have not been able to recover your stolen Facebook account, you do not need to worry about your account. Pokerkedi.com will help you get your stolen accounts back. You can get full support for every application you make to Pokerkedi.com via Skype. By purchasing a chip from Pokerkedi.com which helps you to get your account back, you can keep playing safely and securely. If you want to get your Zynga Poker chips stolen from your account back, you can read our article titled "my Zynga Poker Chips were stolen and my Facebook account was hacked, what can I do?". To ensure your account security, you need to take advantage of the reliable sales processes of sites that offer enterprise services for Zynga Poker chip sales. Otherwise, your accounts, or even the data on your computer, are in the hands of malicious people. For your own account's safety, you should stay away from people who try to trick players with slogans such as "cheapest Zynga Poker Chips, Free Zynga Poker Chips", who try to make sales via personal bank accounts. You should never download the programs that those people have sent to you for winning Zynga Poker chips, and you should not install them on your computer. You should not open any email that they have sent to your e-mail address. These are among the measures you need to take to ensure your account security.
It is possible to retrieve a stolen Facebook account as 100%. If you have received your account back, you can now purchase your Zynga Poker Chip at the best prices by creating an order immediately from our Poker Chip Sales page :)