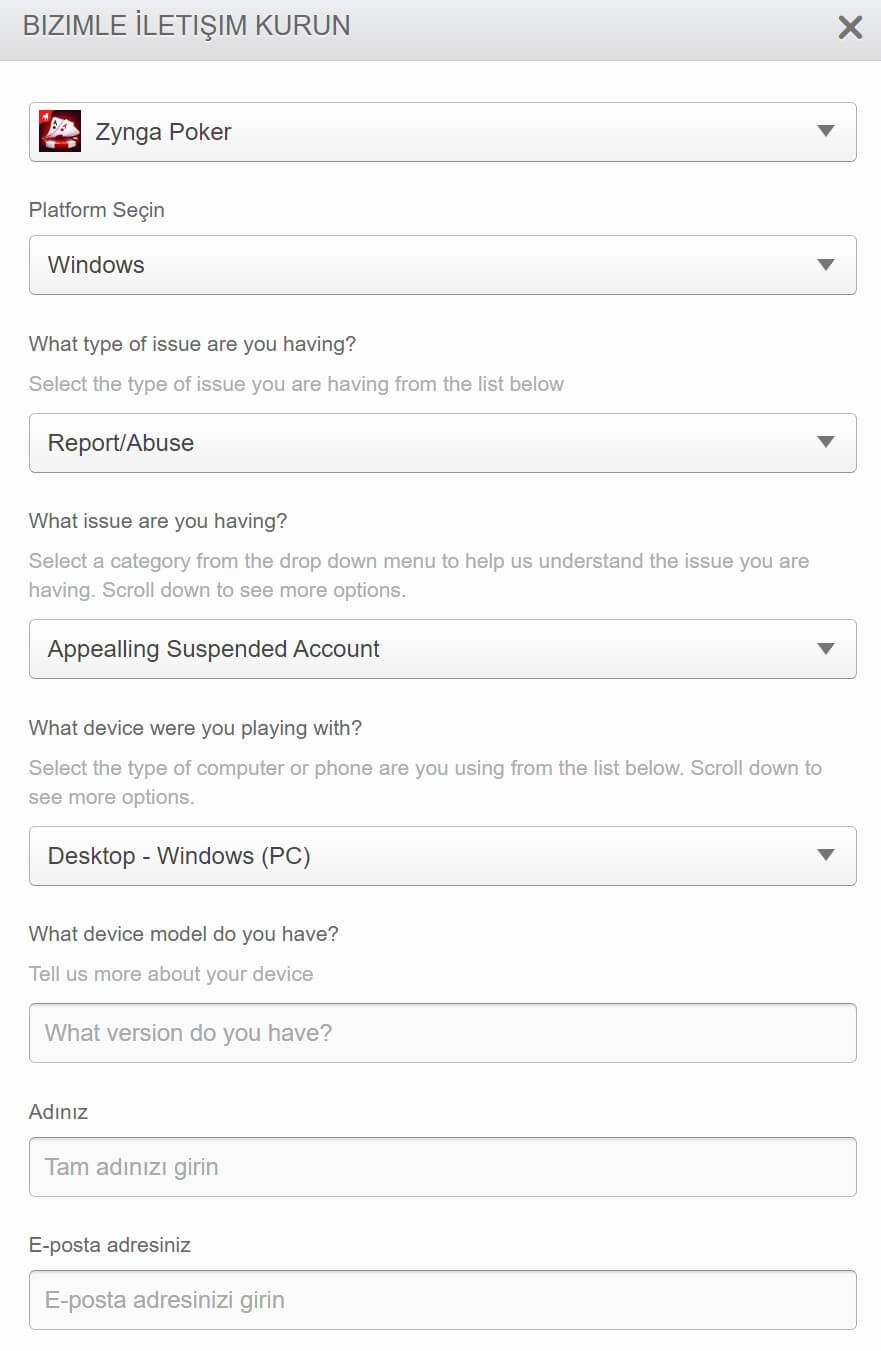 How can I open my banned Zynga Account?
It is almost impossible to reactivate the accounts banned by Zynga due to a forbidden transaction or rule violation. With 99% probability, the accounts banned will be closed forever, though there are some procedures to open them with 1% probability. Zynga quite rarely allows the activation of certain accounts. Accounts of which reactivation is permitted by Zynga are usually the accounts that have made purchases from Zynga itself. By buying gamecard, a request can be made for the reactivation of banned accounts since you have bought chips.
To reactivate a closed account, you must fill out the form after you click on the link to Zynga Support. By explaining in detail the situation to Zynga Poker officials, regarding your account, you can submit your request for your account to be reactivated. While writing your request for re-activating your account on Zynga Support page, you can fill in the form in Turkish. There is an evaluation period for the submissions sent to Zynga Support team, regarding the reactivation of banned accounts. Zynga Support evaluates the submissions in 4 days at most and responds to your e-mail address you used during the application with an explanation regarding the subject. Even though 99% of the responses regarding the banned accounts are negative, you may receive a response stating that your account has been reactivated, which has a little chance.
Consider various tips while you are filling in the submission form to be among the lucky 1% and get your account back. In application form you submitted to Zynga Support team, you must specify that you play Zynga all the time. You must express in detail that you didn't want to conduct a rule violation or a forbidden action and you were sorry about what you have done. By stating in your form that you will continue buying Zynga Poker Chips in case your account is reactivated, you might increase your chance a little bit more.
Our advice to you will be to avoid losing more time with negative returns. Start using your new Facebook account by opening a new account for Zynga Poker game. While buying Zynga Poker Chips, prevent your account from getting banned by using Pokerkedi.com. You may encounter people who claim that they can reactivate your banned accounts on Zynga Poker. Do not give credit to people claiming money from you by saying that they can reactivate your account. Never forget that there are many fraudsters in the gaming industry as well as in all industries. You can contact with Pokerkedi for all kinds of support and the chip transactions for Zynga game. With Pokerkedi, who is always reliable and honest and serves with the most affordable prices, your accounts and game pleasure are always safe.
Bans and TOS (DOH) applied by Zynga Poker are two different Zynga punishment implementations; and they are applied in different situations by the support team based on the state of the account and the type of rule violation. Reactivation of banned accounts is 99% impossible. Only when you meet some criteria, you may have a small chance.
On the other hand, the accounts punished with TOS or DOH are reactivated after the reset of the chips in the accounts. Choosing to be more careful next time instead of trying to reactivate a banned account prevents the loss of time. Zynga Poker chips in your account should not contain more than 900M. We recommend you that you should follow all necessary transfer rules to prevent yourself from getting banned. In our other articles, you can find all necessary rules that you need to know to keep your Zynga Poker account safe.
By reading our articles that were prepared for you to play Zynga Poker with more pleasure, you can learn what you should pay attention to in order to prevent your account from getting banned and the answers to your questions. GOOD LUCK!