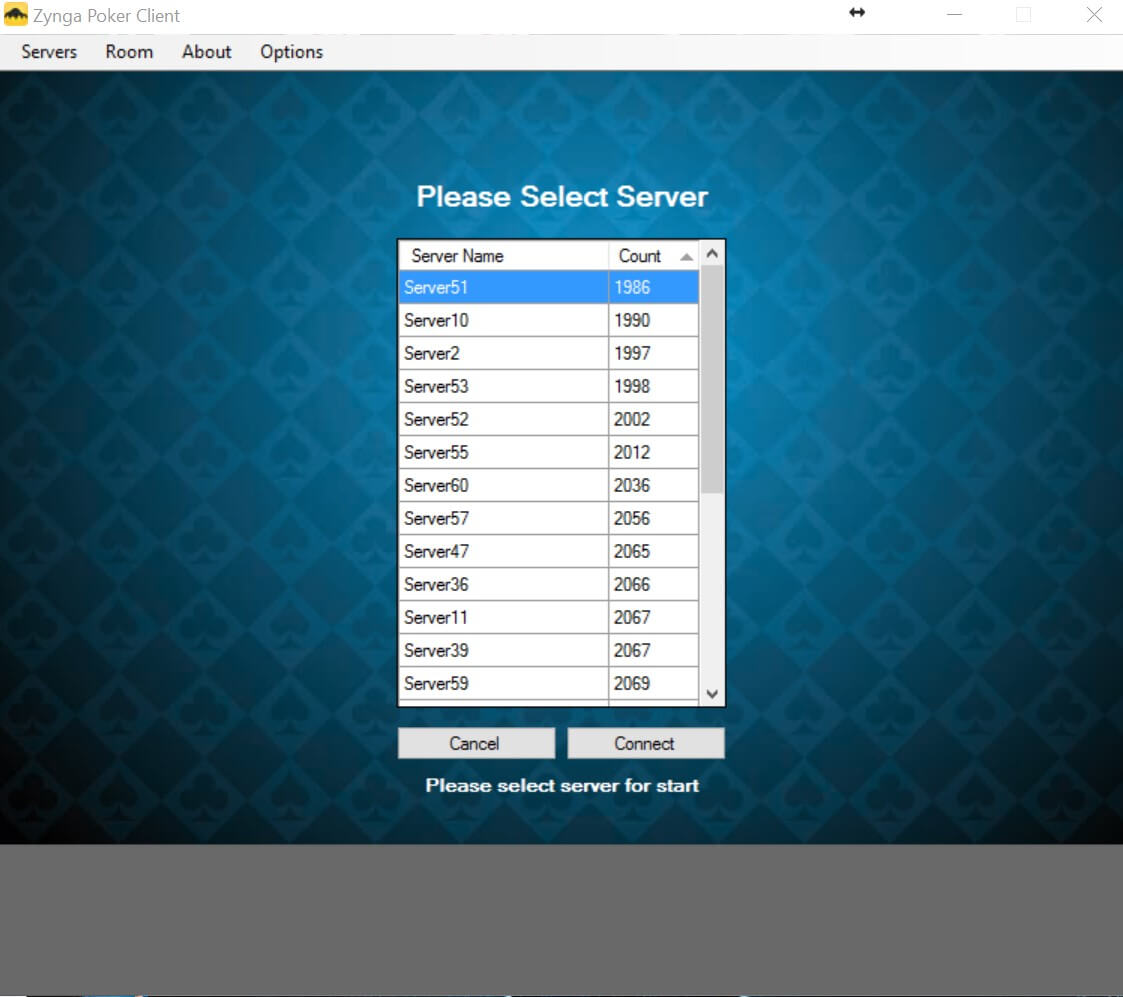 I cannot see Zynga Poker Tables, I cannot meet with my friends.
Since Zynga Poker is a very popular game, it constantly gets security updates. Becoming the favorite of the hackers with its more than 350 million users, the game has increased security measures. And those measures are preventing you from meeting your friends by selecting casinos. On the basis of this obstacle, attacks that hackers have organized on the game, cheat programs developed for the game, and accordingly accounts and chips stolen are effective.
To overcome the update preventing you from meeting with your friends, you can use the table finder program named ZyngaCloud. To find the program, you can visit the page by clicking on "Table Finder Program" link. After downloading the program, complete the installation steps respectively. After installation is completed, enter your Facebook username and password on the login screen, and press "Connect". After this process, the program will show you the server list. If you and your friends make the same selection on the server list, you can meet on the same server. When you are selecting the table after entering the same server as your friends, if both users prefer the same table space and the same table name, you will be at the same table with your friend. There is another meeting method other than the ZyngaCloud program. In this meeting method, you need to add your friend as "buddy". There is a 48-hour approval period after the Buddy addition process. After waiting for the approval period, you can see where your buddies are located through normal Zynga Poker without using any add-ons or programs. The ZyngaCloud program is faster than the normal Zynga Flash game, the backplane blocks many unnecessary uploads, only to get the objects you need for transfer. You can use this program for transfers, then you can play the game over normal Zynga with all the graphics and sounds.
Although it is completely safe to use the ZyngaCloud program, it is important where you download the program file from. If you download the program file from an untrusted source, you can risk your account. Many hackers who have set traps for Zynga Poker players try to spread the virus and key loggers that they have written by using the name of the game. This results in for many players losing their account information, or even all information on their computers. To avoid such annoying situations, you can contact Pokerkedi.com's expert customer service for all your needs with Zynga Poker. With more than 350 million users, Zynga Poker is a very interesting platform for hackers. Just to have a good time and not to be target of hackers on this platform, you should be careful. If you receive a file from an unknown source, changing your passwords immediately from a different computer will be the first step you need to take for your account's security. After you change the passwords, you should run a virus scan on your computer to test whether you have been exposed to any malicious code. If your computer has something that works unusually or if there is a program that affects CPU activity but you cannot see, you can get rid of viruses by formatting. During this time, you can take security measures such as the use of single-use virtual credit cards that you set the limit while online shopping. You should visit Pokerkedi.com for your needs, such as purchases, programs, etc., in order to avoid such a stress while playing games in an enjoyable way.
Turkey's first and only corporate Zynga Poker chip sales site, Pokerkedi.com, does not allow your game play being interrupted, with the support before and after the sale. You can enjoy safe shopping by choosing our site. To follow our current prices and buy safe and inexpensive Zynga Poker chips, do not enter the game without going to Pokerkedi.com.
Do not forget to visit our Zynga Poker Chip Sales page for the latest chip prices.